eabeler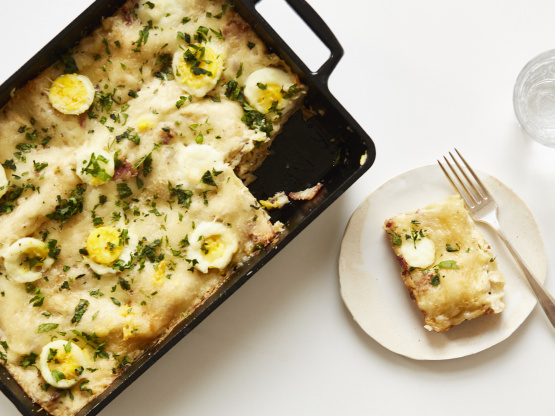 Ever want lasagne for breakfast? How about bacon, egg, and cheese with your lasagne? I didn't realize the recipe would be as labor intensive before I started it, but it was worth it in the end. Just a fair warning, when this says it has 12 servings just remember you'll keep going back for more. DELICIOUS! DO NOT COOK THIS IF YOU ARE HUNGRY! Recipe from The Pillsbury Cookbook.

This is a VERY decadent and filling lasagne rendition, but we enjoyed it very much. It's a unique combination and I don't believe I've ever used hard-boiled eggs in this manner before, but it was tasty. I used a combination of shredded swiss and cheddar. Depending upon the saltiness of your cheese and bacon, you may need to add additional salt. I erred on the side of less salt and adjusted to taste once it was served. Like the poster stated, this is not a recipe for beginner cooks (bechamel sauces can be tricky) but it's worth the effort and prep time.
Cook lasagne noodles to desired doneness as directed on package.
Drain and rinse with hot water.
In a large skillet, cook bacon until crisp and drain. Reserve 1/3 cup of bacon drippings and set bacon aside.
Cook onions in bacon drippings until tender.
Add flour, salt, and pepper and stir until smooth and bubbly.
Gradually add milk and cook mixture until it boils and thickens, stirring constantly.
Heat oven to 350 and grease 13x9" (3 quart) baking dish.
Spoon a small amount of sauce into the bottom of the pan.
Divide lasagne noodles, bacon, sauce, eggs, and Swiss cheese into thirds and layer in pan.
Sprinkle with Parmesan cheese.
Bake at 350 for 25 to 30 minutes or until thoroughly heated.
Sprinkle with parsley.
Let stand for 10 minutes before serving (this is the most difficult part of the entire recipe).