Bacon and Cream Cheese Quesadillas
Boomette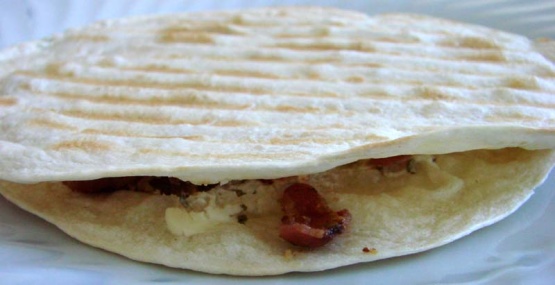 Sounds a little strange, but do not let that put you off. You MUST try these quesadillas!

I LOVE these!!! I actually love to take the cream cheese and bacon and some shredded chicken and maybe a spoon of sour cream and mix it all together in a bowl, then I can just spoon the mixture right onto the tortillas. DELICIOUS!!!
Cook bacon to desired level of crispiness. Drain and allow to cool slightly.
Spread one side of each tortilla with cream cheese.
Crumble cooked bacon slices on one tortilla. Top with the other. Press edges to seal.
I cook mine in my handy-dandy quesadilla maker until it is golden brown -- but if you don't have one of those, you can use a large nonstick pan on medium heat. Cook, turning once, until golden brown on both sides. This should only take about 1-2 minutes per side.
Cut into 6-8 wedges and serve warm, topped with salsa.