Bacon and Chicken Stir-Fry for Your Cat
Peter J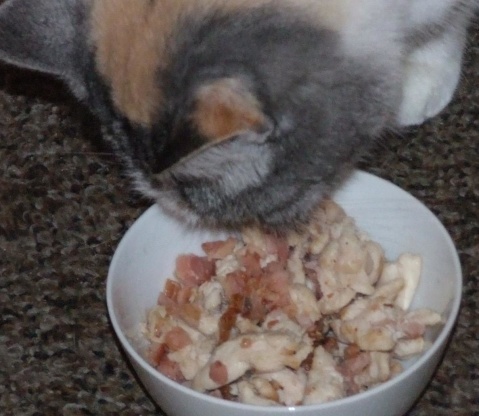 I saw a forum post about cat food recipes and just couldn't help myself... There are some mixed opinions about feeding cats cooked meat so it's probably best kept as a special treat rather than a regular meal.

Top Review by Leslie
Hi Peter, My name is Yoko and I am a Canadian cat. My picture is on my Mom's about me page. (Her name is Leslie.) So my Mom wasn't quite as extravagant as some of the others....she made my meal out of some leftover chicken, and just served it in my regular dish, but hey, I didn't care! This was great!! Now can you just please talk her into giving this to me more often? A few prawns in there would be good too! Thanks and meow, Yoko.
Melt butter in a wok or pan over medium heat and add bacon and chicken.
Stir-fry a few minutes until lightly cooked.
Allow to cool 5 minutes and serve in your best china.