Bacon and Cheese Salad With Honey Dressing
Nimz1466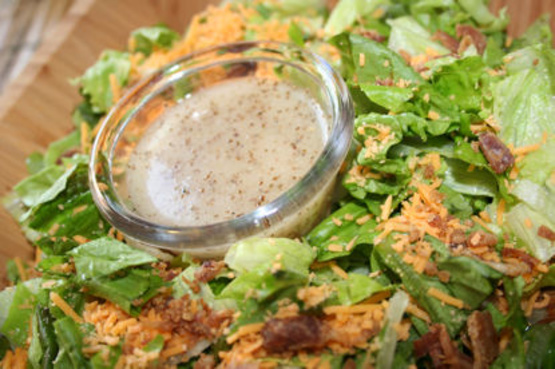 This is very similar to a salad served at a neighborhood restaurant. I love the combination of the cheese, bacon and honey salad dressing. Prep time includes the overnight refrigeration of the salad dressing.

This is absolutely delicious! It was my first try at making a home-made salad dressing (besides potato/slaw types). My favorite dressings have always been Creamy Cucumber Ranch and Western! I do believe you've converted me and now I will have to try making other varieties (in addition to this one of course). This is a keeper!! It was easy to make and even tasted great on plain old iceberg lettuce too! Thank you for sharing your recipe Merlot!
Mix the first eight ingredients.
Refrigerate overnight.
Add the shredded cheese and bacon bits to the Romain lettuce and toss.
Top with the salad dressing.