lazyme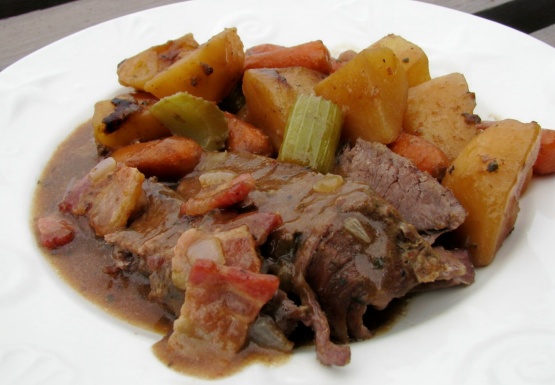 I made a german dish years ago. The only thing I really thought was outstanding was the gravy. I had to change a few ingredients to make it work. I think most of the flavor was coming from the meat mixture and the long cooking time. This is the end result. Please try it, you won't be disappointed. It has a nice strong, smooth flavor.
Prepare gravy by cooking bacon in a sauce pan until partially done.
Add onions and saute for 5 miuntes.
Pour in the Beef Consumne'.
Bring to a boil.
Mix water and corn starch together.
Add corn starch mixture to sauce pan.
Cook till mixture has thicken.
Lower heat.
Add mustard, salt and pepper to taste; stir in catsup.
Serve over mashed potatoes, or noodles.