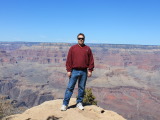 This is a real favourite with our friends. It simply disappears so fast I usually double the recipe. You can vary the amount of salsa to your taste, as well as the heat level with picante salsa.
Directions
Ensure cream cheese is at room temperature.
Whip in a large bowl until smooth.
Mix in salsa.
Add in peppers and cheddar.
Serve with taco chips.
Most Helpful
Outstanding! I brought the dip to my son's bbq last week and it was a great hit! This week my son asked me for the recipe...as he couldn't eat it fast enough! Thanks for a great one!
I prepared this for a barbecue get-together on an unseasonably warm early spring Sunday. I omitted the extra green and red pepper and used homemade salsa that I had canned from last year's garden. The dip was devoured during pre-dinner festivities and several people asked for the recipe.

Delicious and Different! I've heard of mixing cream cheese and salsa before, but have never seen it at parties or done it myself. I really like the creamy spicy flavor it has. I think next time, I will skip the bell peppers since there are already peppers in the salsa and add a hanfull of chopped cilantro. Thanks for sharing. Pam