Back to Basics Roasted Green Beans
Zurie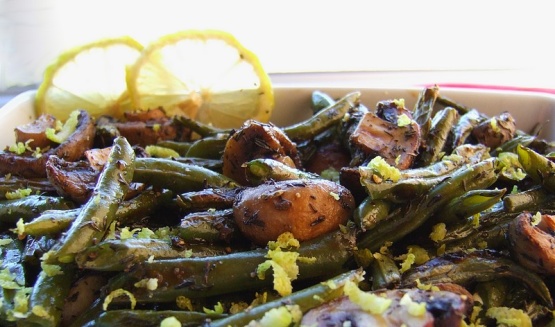 Truly a delicious and basic side that goes great with almost any meal. Simple and delicious.

The beans stayed crisp and the mushrooms tender. I mixed the lemon juice, zest and walnut together while the beans roasted. Loved the flavors. A couple more minutes would have done these nice. I would have like a bit of browning of the beans. Cooking on the top rack in the oven would be the way to go. Thanks for healthy eats!
Place the green beans and mushrooms on a large cookie sheet; sprinkle with thyme and drizzle with olive oil; toss to coat. Place in a 450 degree oven and roast for 15 minutes or until beans are crisp tender.
While the beans are roasting, place the walnuts in a heavy skillet and over medium high heat, toast tossing frequently until nuts are fragrant and lightly toasted. Set aside.
Remove beans from oven, sprinkle with lemon zest, coarse salt and pepper to taste. Drizzle with lemon juice, sprinkle with the toasted walnuts, toss to distribute ingredients. Enjoy!