lizzy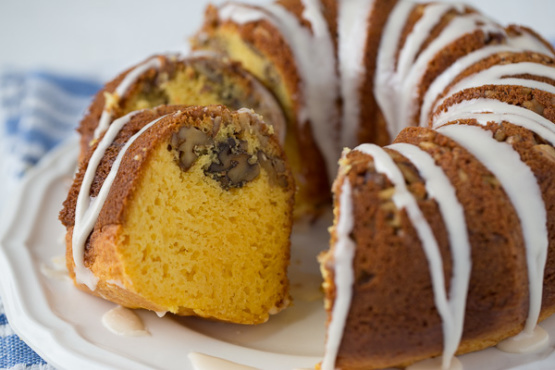 This Bacardi rum cake is lovely and moist. I usually make it around New Years, makes a nice looking dessert for a buffet and the taste is rich and wonderful. From a magazine add, many years ago.

I made this cake ahead of time, just to be sure that I gave the booze enough time to soak into the cake :-) This was a rare treat – a rich, unashamedly decadent treat!
Sprinkle nuts over bottom of greased 10 inch tube pan or 12 cup bundt pan.
Stir together cake mix, pudding mix, eggs, water, oil and rum.
Pour batter over nuts.
Bake at 325 in oven for 1 hour.
Cool 10 minutes in pan.
Invert onto serving plate and prick top.
Glaze-----------------.
Melt butter in saucepan.
Stir in water and sugar.
Boil 5 minutes, stirring constantly.
Remove from heat.
Stir in rum.
Brush glaze evenly over top and sides of cake.
Allow cake to absorb glaze.
Repeat until glaze is used up.