Bacalaitos - Fried Codfish Fritters
Obeah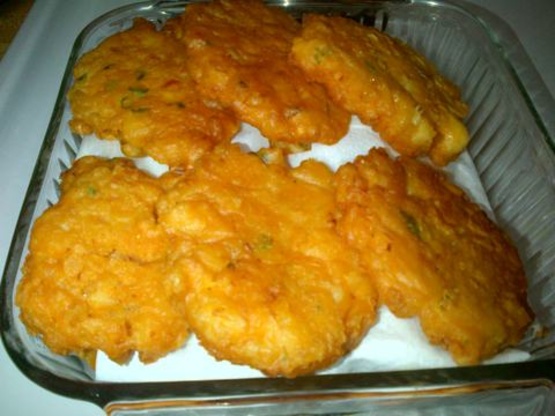 This makes a very tasty appetizer! Chill overnight, it makes for a less salty fish. These are served all over Miami and they are so good! Originally on the Goya Foods web site.

yes, Im Puerto Rican but needed a recipe on bacalaitos cause mami would make them but I didnt pay any atencion and she never use measuring cup. I made bacalaitos the other day and it was excellent even my husband, mother in-law and greatgrandmom said it was delicioso... thanks to your recipe... from Jacksonville FL...
Soak codfish in cold water overnight in the refrigerator.(Change the water at least 3 times ~ have also heard that it is good when soaked in milk).
Drain, rinse with cold water several times.
In a saucepan, cover codfish with water, bring to a boil and simmer for 10 minutes.
Cool, remove skin and bones.
Shred the fish.
In a bowl make a batter by whisking together the flour, baking powder, adobo and water.
When smooth, mix in garlic, cilantro and shredded fish.
Check for seasoning, if necessary add some more pepper or the adobo with pepper.
In a skillet, heat 1/4" of oil on medium heat.
Drop the batter by spoonsful into hot oil and cook until golden brown.
Drain on paper towel.
Enjoy!