Rita1652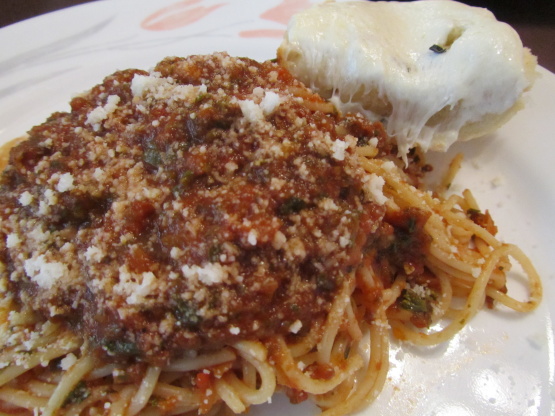 Okay, well spaghetti is, (and always has been), my favorite food in the whole wide world. I absolutely love it every which way. This is my final, favorite recipe after years of trying different recipes and finally tweaking them all to my liking. I like it served with garlic bread and sprinkled with lots of parmesan cheese. This recipe has some optional ingredients that definately aren't needed, just added extras! I also use this as my base recipe for other pasta dishes (like lasagna or by replacing the ground meat with Italian sausage slices for a sausage and pepper penne, etc..)
Cook the ground beef, onions and garlic until beef is cooked through, drain.
Add remaining ingredients, except for parmesan cheese and simmer for 1-3 hours, depending on your timeframe.
Add parmesan cheese to the sauce just before serving.
Serve over your favorite pasta noodles, I love Vermicelli. Sprinkle with additional parmesan cheese.