Babzy's Easy, No Cook Pizza Sauce
This is my go-to sauce for our Friday night "Pizza Night". Very quick and easy to throw together and no cooking involved. The boiling water used in this recipe helps the flavors meld quickly without needing to simmer for any length of time.
Directions
Combine all ingredients and let sit for at least a few minutes before using.
Reviews
Most Helpful
I was really glad to find this recipe last night. I thought I had some frozen pizza sauce that I had made and put into snack bags and froze but could`nt find it in my crowded freezer. I saw your recipe and was so relieved, it was super easy and tastes great! I`m putting it into my Favorites cookbook, thanks so much for posting it, I`m surprised that you don`t have more reviews!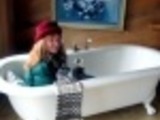 Have made this sauce a few times now and my husband and I both love it. I always make it and let it sit in the fridge most of the day.Thank You so much for sharing.
OMG. I love this sauce and it was super easy. Yes, you should let the flavors come together but if you are in a hurry and can't do that for more than a few minutes, it's ok with this particular sauce. I made this to go on Grands!® Mini Pizzas and it was great. Really it is a favorite now.
Thanks for posting Babzy. Enjoy ChefDLH!