Baby's Vegetable and Beef Soup for the Crock Pot
Heydarl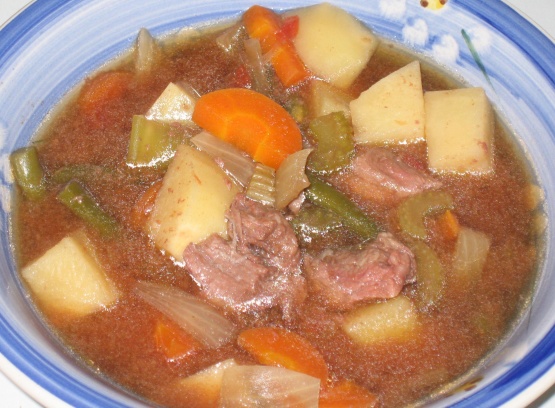 A favorite recipe my grandmother has made for years. It has Rotel tomatoes which adds just the right amount of zip. Serving size is a guess.

Yum yum yum!!!!!! I really liked this and agree totally that you CAN'T skip on the Rotel - it had the perfect amount of flavor for me with no need to salt. I looooove stew meat so I put a little more than a pound in mine, skipped out on the lima beans, added a can of hominy at the end and a handful of dry alphabet noodles for the last 45 minutes. With those additions, it needed more liquid, but my crock pot wouldn't hold anymore, so its realllly stewy, but I love it!
Add all ingredients except corn and lima beans to crock pot. Stir. Add 15 ounces of water (rotel can full).
Cook on low for 8 hours.
Add corn and lima beans and heat a few additional minutes. Add more water if needed.
This can be frozen and is terrific reheated as leftovers.