Baby Spinach & Pine Nut Salad with Creamy Bacon Dressing
Luschka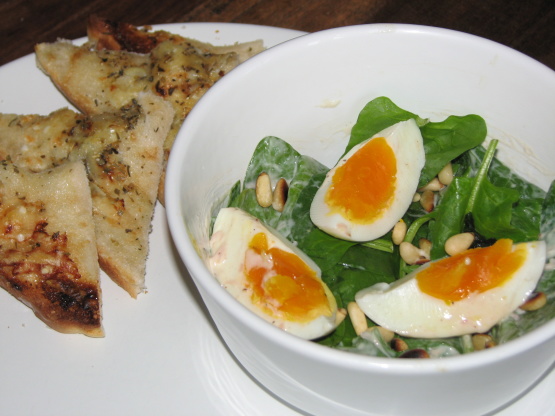 I really enjoy spinach based salad with creamy dressings and this simple recipe is really great. Depending on the type of mayo you use this recipe can also be suitable for low carb diets. Serves four as a side salad, or 1-2 people as lunch. From a newspaper clipping.

This was SO delicious. I anticipated that it would be nice, but I did not expect it to be THIS good! My mayonnaise was not really of the pouring kind, so I added some olive oil, which made it more spreadable. This was absolutely fantastic, and I will definitely be making it again! (Reviewed for Spring PAC 2007)
FOR THE DRESSING

2

slices bacon, trimmed of fat and cut into thirds
1⁄2 cup good quality whole egg mayonnaise (like Thomay)
1 1⁄2 tablespoons water

FOR THE SALAD

2

eggs

50

g pine nuts

150

g baby spinach leaves, washed and dried
FOR THE DRESSING.
Cook the bacon in a non stick pan over a high heat for about 5 minutes or until crispy.
Place the bacon, mayonnaise and water in a food processor and process until the bacon is finely chopped.
FOR THE SALAD.
Place the eggs in a saucepan of cold water, bring to the boil and cook for 7 minutes.
Rinse the eggs under cold water, peel and cut into wedges.
In the pan you used to cook the bacon, cook the pinenuts over a medium/high heat for 1-2 minutes until toasted- beware they burn easily.
TO SERVE.
Place the spinach on a serving plate, scatter with the pine nuts and egg wedges.
Drizzle with the dressing.