anme7039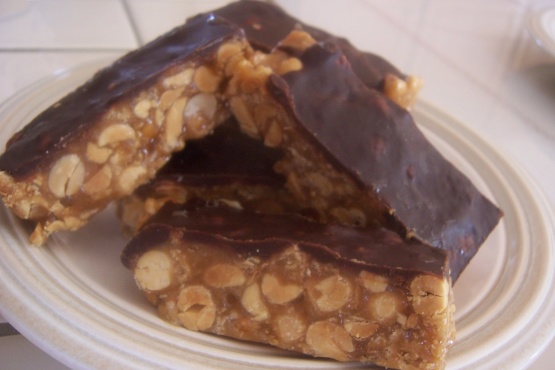 I recipe I came up with for my friend who adores these bad boys!

The kids liked it a lot, but it was quite sticky and crumbly and even doubling the chocolate didn't cover the pan all the way to all the edges. More detailed directions would help because I didn't know that I should make the peanut butter mix thoroughly HOT (I only just melted everything and it was setting before I got it into the pan thus the crumbling). Also I didn't know if I should bear down and crush the cornflakes. I didn't and the bars are not holding together well. The kids aren't complaining though! Note for others since pan size isn't given: A double batch fits nicely in a 13x9 pan.
Microwave peanut butter, 1/2 cup white corn syrup and brown sugar in a large bowl until dissolved.
Mix in peanuts and cornflakes.
Press mixture into a well greased pan. (I use greased tin foil).
Microwave butter, chips, and the 1/2 tablespoon white corn syrup until melted, stirring often.
Pour over peanut mixture and place into fridge until set.
Cut into bars.