loof751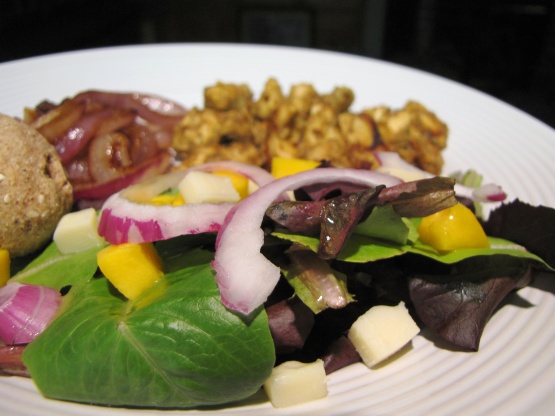 A delicious accompaniment to our sole almondine and lightly steamed carrots. I added some baby arugula, baby spinach and butter lettuce (all from the farmer's market!) with the romaine. Organic feta, farmer's market red onion, fresh mango! Yum! The top of the salad was garnished with some lemon zest, too. Loved the dressing! This salad covered many bases: sweet, salty, tangy, peppery...Made for Veg Tag/May. Thank you!
Place leaves on plate.
Chop mango into cubes and toss over leaves.
Cut up the red onion into desired size and add on top.
Garnish with feta. (I prefer cubbed not crushed.).
Vinaigrette:.
Mix all together using more fresh lemon than sunflower oil.
Pour over salad.
Enjoy!