Baby Potatoes and Green Beans (Meatless)
Ms B.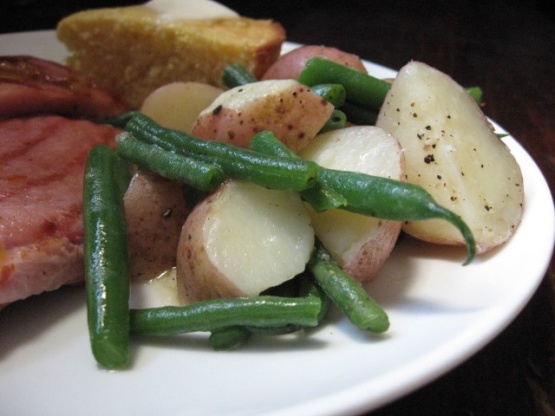 There's no salt pork added. This dish cooks up fast if done in the microwave. Substitute the butter to make it vegan. I love this the next day for lunch. Quartered red potatoes can also be used.

These are a delight! The colors are bautiful and the flavor is so fresh. I used Sel du Jardinier (gardener salt) which is sea salt with bits of parsley, garlic tarragon and chervil. I also added some freshly cracked pepper. Many thanks, Kathy, for such a pretty and delicious dish.
Cook the unpeeled potatoes and green beans separately in salted water 'til slightly fork-tender. I use the microwave. Or you can steam them. The green beans cook faster than the potatoes will.
Drain well and let set in the cooking pan with a lid on for about 4 minutes.
Pour the potatoes and beans into a large bowl.
To the potatoes, add the butter and sea salt and gently toss together.
Pile into a serving bowl and serve.
OPTION: Sprinkle with grated Parmasan cheese or crispy, crumbled bacon.