Baby Pacifiers (shower Favors)
Sackville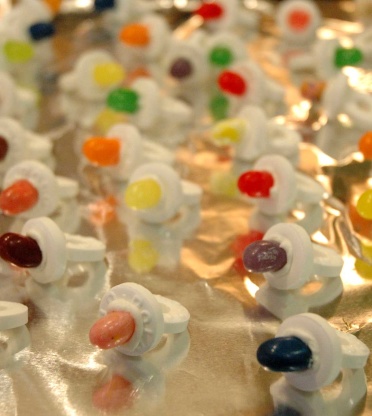 I saw this on an episode of "The Baby Story" a long time ago and dug it out when it was time for my sister's baby shower. Very cute placed on the guest tables at baby showers or on the food buffet table. Also good for playing the "Can't Say the Word" shower game (where every guest is given an item, sometimes it's a clothespin, and they are instructed at the beginning of the shower that they can't say a certain word. each time a guest says that word in conversation to another guest, the offending person must surrender their item/clothespin to the person that caught them. The person with the most items at the end of the shower wins.).

This idea is so cute it should get five stars but I found that there is a problem with the recipe. It is definately necessary to use royal icing. Otherwise, it takes way too long to dry!! I had to recruit my husband to help me hold them while they dried because I didn't use the royal icing. Hopefully everyone else will take the other reviewer's advice, it makes it a ton easier.
2

(13 ounce) bagsof white individually wrapped Lifesavers candies (wintergreen, peppermint, your choice)

2

dozen jelly belly jelly beans, about 1/2 cup,colors will vary,depending on whether you know the sex of the baby or not,possibilitie

6

ounces tube white cake icing, not the gel,that doesn't dry completely,with a thin attachment for application

24

lengths of thin curling ribbon, can coordinate with your jellybean colors if you'd like,length to your liking,long enough to fit aro (approx. 24")
Unwrap all the Lifesavers.
Take one Lifesaver and apply a thin layer of frosting around the inner hole.
Grab a jellybean and place one of the short, ROUND ends in it, so the length of the jellybean is coming out of the hole.
Flip the Lifesaver over.
On the other side, take the frosting and make a slightly thicker (yet still on the thin side) layer of frosting around the inner hole/center, and place another Lifesaver perpendicular attaching edge of 2nd Lifesaver to center of 1st Lifesaver with jellybean attached to it.
Place on flat surface and allow to dry.
After drying for 3-4 hours, thread curling ribbon through the hole of the 2nd Lifesaver and tie in a knot.