Baby Lima Beans With Tomatoes and Sage
Bergy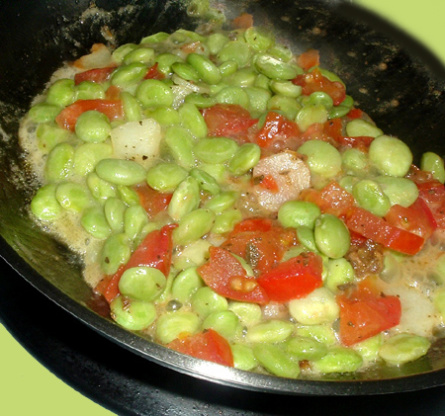 Baby lima beans are a super source of fiber. In this recipe from Philadelphia chef Aliza Green, they're cooked with lots of garlic. Taken from the "Quick and Healthy Low Fat Cooking" cookbook.

Top Review by Bergy
Excellent recipe. I did not have fresh sage so used dried - still gave a lovely flavor. I cut the recipe back to 2 servings using 3 large cloves of garlic and a 1/2 tomato. Lima beans are so often overlooked and they are a delicious vegetable. Next time I will slip the outer skin off the lima beans it makes a difference to the flavor and is worth the effort Thanks jonesies for a keeper
Separate the garlic into individual cloves; peel and slice them.
In a large heavy-botomed frying pan, combine the garlic, oil and sage.
Cook over low heat, stirring frequently, for 5 minutes, or until the garlic begins to turn golden.
Don't let the garlic burn or turn brown.
Add the beans, tomatoes and water.
Bring to a boil over medium heat.
Simmer for 20 minutes, or until thick.
Season with the pepper.