Baby Greens and Garlicky White Bean Salad
Parsley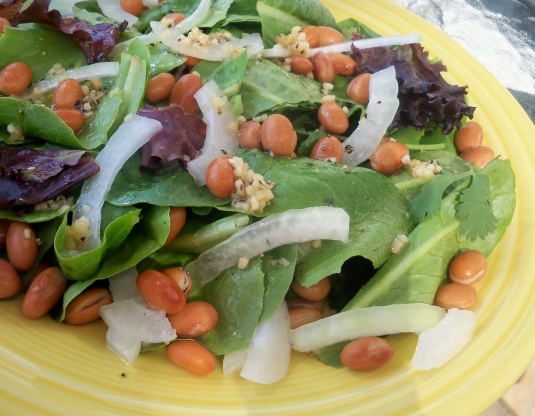 This is a very garlicky salad. A nice fast dinner. A slight adaptation from a recipe in "Weight Watchers Miracle Foods" cookbook. Each serving is 3 points as written. Though I suggest a tad more sauce, which would make the points go up a smidge. Red onion is preferred because of the milder taste. If you like the taste of raw onion, then yellow is fine too. The original recipe called for serving it immediately. I like to let it sit a few minutes so the tastes will meld, but it would not keep for more then an hour or 2. If you don't have baby greens, spinach would be excellent.

This was very unexpectadly great. I need to balance my carbs and protein and this one did the trick. I made the bean and dressing part (great northern beans) and doubled the dressing (I might triple it next not sure yet) and just toss with salad green when ready.
Chop the greens finely.
Mix them, the rinsed and drained beans, and the onion in a bowl.
In a smaller bowl or shaker combine the vinegar, the oil, and the garlic.
Add the salt and pepper and mix it all well.
Add the dressing to the greens and toss it together.
Let it sit about 5 minutes so the tastes will meld.