Baby Food Soft Doggie Cookies
PaulaG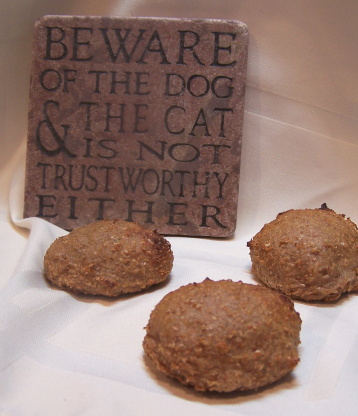 Found on net. Definitely something to howl about! Cookies are soft and chewy!

Our dog really enjoyed the turkey treats I just made using this recipe. However, they REALLY stuck to the pan. I greased the pan, but I think it would be better to use parchment to line the pan. They also took much longer than the 15 min baking time called for; so, I would increase the baking time the next time I made this recipe.
3

(2 1/2 ounce) jars beef baby food or 3 (2 1/2 ounce) jars chicken baby food
1⁄4 cup powdered milk
1⁄4 cup wheat germ or 1⁄4 cup cream of wheat
Combine ingredients in a bowl and mix well.
Roll into small balls and place on well-greased cookie sheet.
Flatten slightly with a fork.
Bake in preheated 350 F oven for 15 minutes or until brown.
Cool on wire racks and STORE IN REFRIGERATOR -- also freezes well.