Baby Food Pineapple Coconut Carrot Cake
MasakoHI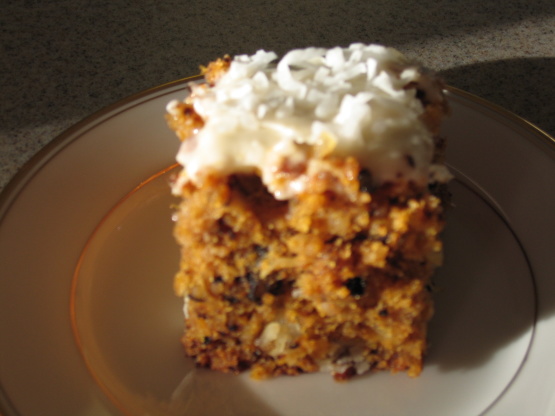 This incredibly moist carrot cake is brimming with yummies, like pineapple, coconut and walnuts! And the best thing about it is...NO GRATING CARROTS...that's where the baby food thing comes into play!!! Try it, you'll love it and never grate carrots again..at least not for cake :)

This was really fast and easy to put together. It sure beats the heck out of grating carrots! I will definitely be making this again.........
Cake: Preheat oven to 350 degrees.
In a large mixing bowl, combine dry ingredients and mix well.
Add oil, eggs and baby food and mix on low speed until well combined.
Fold in pineapples, nuts and coconut.
Pour into 2- 9 inch greased and floured pans.
Bake for about 35 minutes or until center tests done.
Cool for 15 minutes on wire rack and then remove from pans.
Cool completely before filling and frosting.
Frosting: In a large bowl, beat cream cheese and butter until smooth.
Add vanilla and confectioner's sugar and beat until desired spreading consistency.
Frost cakes and sprinkle top with additional chopped walnuts and coconut, if desired.
If you have any left, store in the refrigerator!