Baby Carrots With Lemon & Walnuts
Annacia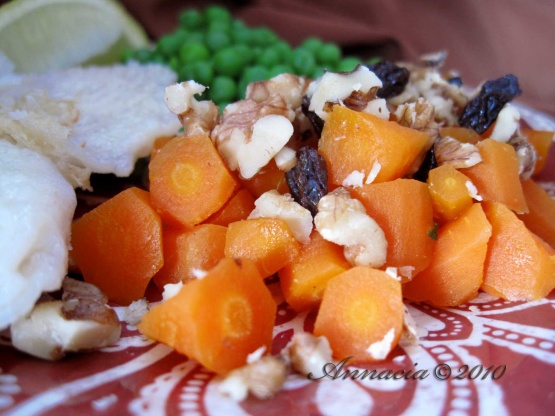 A recipe from the Healthy Heart Cookbook from the American Medical Association. It's a very good side dish. / The simple additions of fresh herbs, grated lemon zest, and toasted nuts turn an everyday vegetable into something elegant. Use dried figs in place of the raisins, if you like, for a new flavor dimension.
In a bowl, combine the walnuts, parsley, lemon zest, and raisins. Set aside.
In a saucepan, combine the broth, lemon juice, and dill and heat over medium-high heat. When the liquid is just beginning to boil, add the carrots. Cover and steam until the carrots are tender-crisp, about 3 minutes. Uncover the pan and continue to cook, shaking the pan frequently, until the carrots are tender and the broth is nearly evaporated, about 3 minutes longer. Transfer to a bowl, add the salt and the walnut mixture, and toss to combine. Serve immediately.