Rita1652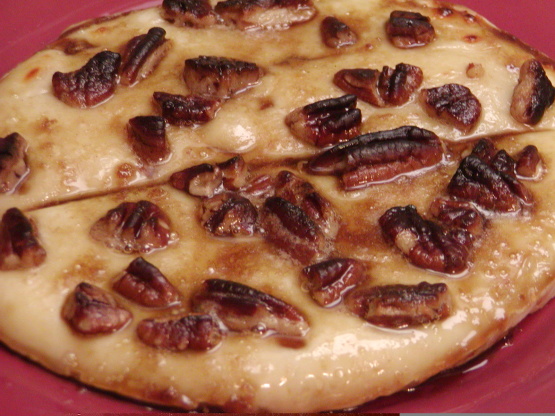 This is a wonderful Holiday recipe for a gathering of friends. I also change it a bit with just heating whole cranberry sauce and pouring it over a whole brie or camembert cheese.

Awesome appetizer. It is so easy to make that my nine year old can make it himself. He loves to have it for dinner with crackers. When I am out of pecans, I top it with sliced almonds. If you are looking for a super easy appetizer that will be a hit with everyone, this is it. Thanks for the recipe.
With a long sharp knife, cut off and discard the top rind of the cheese.
Combine sugar, pecans and butter, mix well.
Sprinkle mixture evenly over surface of cheese.
Place cheese in an ovenproof container slightly larger than the cheese.
Broil 6 inches from source of heat until cheese is soft, slightly melted and topping is bubbly.
Serve warm with strawberries or cookies.
Variations: Replace brown sugar, pecans and butter with 1/4 cup apricot jam mixed with 2 tsp.
brandy.
After removing top rind from cheese, prick surface with fork and pour 1 tsp.
more brandy over all.
Top with apricot mixture and bake in 350 degree oven 10 minutes.
Sprinkle with toasted sliced almonds to serve Note: Praline and Apricot Toppings can easily be doubled or tripled to cover a large wheel of Brie or Camembert.