Baby Bok Choy With Yellow Bell Peppers
Debbwl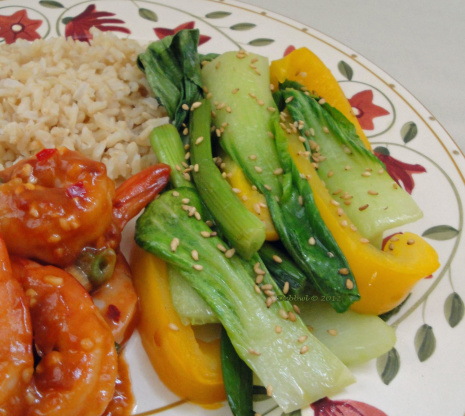 Wonderfully simple, with bok choy, peppers, and green onions fresh from the farmers market, this veggie stir-fry doesn't even really need added salt, there is enough naturally in the bok choy itself.

Top Review by Debbwl
Just a few simple ingredients simply brought together make this side both flavorful and very flexible. We really liked the light sesame flavor. I made as written using the ingredients and amounts listed what minor change I made was to cut peppers into strips and not tear the bok choy as I needed a sort of elongated side. As we enjoyed the light fresh flavor will be making again. Thanks for the post.
1

tablespoon grapeseed oil or 1 tablespoon canola oil

1

tablespoon toasted sesame oil

2

large yellow bell peppers, stem and seed pod removed and discarded, sliced (about 2 cups sliced)

4

green onions, chopped, including green parts that are not dried out

1

garlic clove (pressed or minced)

1

lb baby bok choy, bottom root ball cut off and discarded, rinsed thoroughly, torn into smaller pieces
salt (optional)
pepper (optional)
Heat a tablespoon each of grapeseed (or canola) oil and sesame oil in a large sauté pan on high heat. Add the chopped yellow peppers, green onion and garlic(add onions and garlic a min or two after the pepper) and cook, stirring occasionally until lightly browned. (Keep a watch so that the onions and garlic don't burn.).
Lower the heat and add the bok choy. Stir to coat with the oil in the pan. Cook only until the bok choy has wilted. The thicker, whiter ends of the baby bok choy should still be somewhat crunchy. Season as and if desired.
Serve immediately.