Baby Bok Choy With Mushrooms and Tofu
Parsley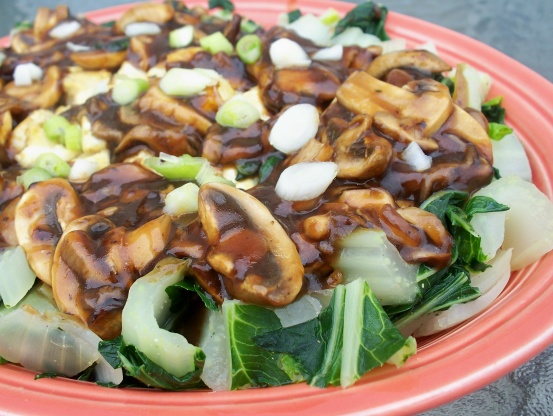 Rice or ramen noodles make a good partner for this tofu-enhanced vegetable dish inspired by traditional Chinese cooking. From Country Living magazine. After seeing many review, I would recommend using low sodium broth. This dish can be a little salty!

I am not a fan of shiitake mushrooms so I sliced up some onions & added those instead. The recipe is overall very good, and I liked the sauce with the exception of it being too salty. It may have just been the soy sauce I used but I think if I made this again I would use half as much as the recipe calls for. Otherwise the tofu and the veggies were delicious and I would recommend serving this with jasmine rice for a simple light and tasty dinner.
453.59

g firm tofu, drained

29.58

ml cornstarch

44.37

ml vegetable oil

118.29

ml vegetable broth (or use low sodium chicken if you like)

6

slice peeled fresh gingerroot

8

baby bok choy or 8 shanghai pak choi, halved lengthwise and any discolored outer leaves discarded

226.79

g medium fresh shiitake mushrooms, stems removed (I have used part portabella in a pinch) or 16 dried shiitake mushrooms (I have used part portabella in a pinch) or 16 dried Chinese mushrooms, soaked in boiling water until soft, drained, and stems removed (I have used part portabella in a pinch)

1

small green onion, diagonally sliced (optional)

Sauce

118.29

ml vegetable broth (unsalted if possible)

59.14

ml fish sauce

29.58

ml low sodium soy sauce

9.85

ml cornstarch

9.85

ml sugar

9.85

ml oriental sesame oil
On paper towels, pat tofu dry on all sides.
Cut tofu crosswise into 1/2 inch thick slices.
On small plate, place cornstarch.
Heat nonstick wok or large skillet over medium heat until hot.
Add 2 tbls. oil and swirl to coat pan.
One at a time, dip tofu slices into cornstarch to coat cut surfaces and place in wok.
Fry until well browned on one side--about 5 minutes.
Turn tofu slices and fry other sides until well browned.
Transfer tofu to center of large serving platter; cover with foil and keep warm.
Add broth and gingerroot to wok and heat to boiling.
Add bok choy, cover and cook until tender and most of broth evaporates-about 5 minutes.
Meanwhile, prepare Sauce (see below).
With slotted spoon or pancake turner, remove bok choy and place, cut sides down, around rim of platter with tofu; cover and keep warm.
Discard ginger slices and any remaining broth.
Reheat wok over high heat until hot.
Add remaining 1 tbls. oil and the mushrooms.
Stir-fry mushrooms until softened-about 5 minutes.
Restir Sauce and pour over mushrooms; cook, stirring constantly, until thickened and bubbly.
Transfer mushrooms from Sauce and place over tofu.
Pour Sauce over all.
Garnish with green onion, if desired.
Sauce: In a small bowl, combine 1/2 cup vegetable broth, 1/4 cup fish sauce, 2 tbls.soy sauce, 2 tsp.cornstarch, 2 tsp.sugar, and 2 tsp.Oriental sesame oil.