Baby Bok Choy With Garlic
Parsley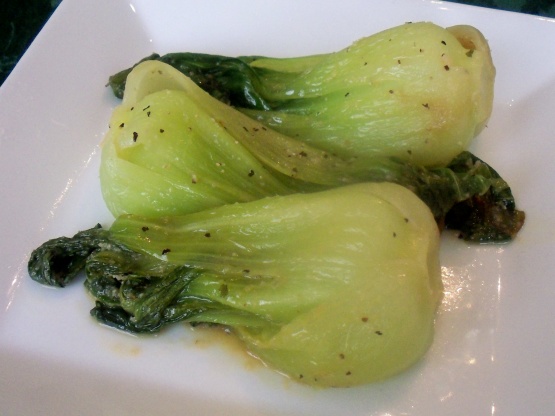 Not sure where I found this baby bok choy recipe, it's either from Gourmet or Bon Appetit. It's quick, delicious, and compliments any Asian stir-fry.

Another great way to serve up one of our favorite veggies. Giving five stars for how easy it is to prepare and versatile...you can throw in just about any other veggie you want to and steam it right along. I served this with Stir-Fried Ginger Shrimp with Snow Peas, delicious!
Melt butter in heavy large skillet over moderate heat.
Add minced garlic and saute about 2-3 minutes until barely golden/brown.
Add bok choy and chicken broth and simmer until bok choy is tender, turning occasionally, about 8 minutes.
Season with salt and pepper.
Use a slotted spoon to serve.