Baby Block Shower or Birthday Cake
Izy Hossack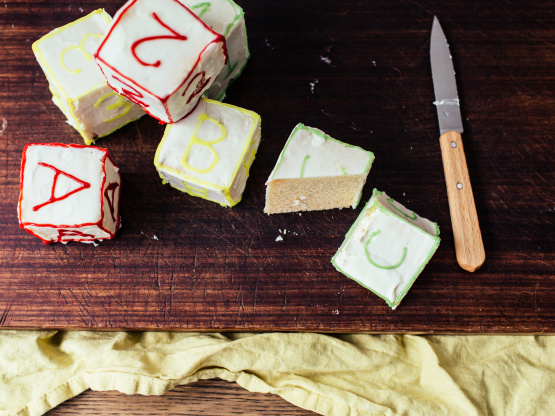 This idea for a cake is so sweet! This would be perfect for a baby shower or even your little ones first birthday party!! You use frozen, store-bought or homemade pound cakes cut in half to make "blocks" and then frost with "b-a-b-y" or the baby/child's name that the party is celebrating!! NOTE: the quantity of cakes and frosting depends on how many blocks you need to spell out the name.

Really fun idea!<br/>I am not a good cake decorator - that is definitely not my talent and found this to be a little more difficult because the blocks are so small and hard to neatly frost, but I did it and it was fun! I would recommend using some kind of crusting buttercream so that the frosting hardens and isn't as messy. <br/>Cute idea! Thanks!
2

(10 3/4 ounce) frozen poundcake, thawed
white frosting
food coloring
Make or buy a minimum of 2 pound cakes (quantity depends on how big of a name you are spelling).
Slice in half width-wise and shave sides and top accordingly to make a cube.
Color appropriate amount of white frosting with food coloring to make pink, blue or whatever colors "blocks" you want.
Frost all sides but the bottom of the blocks with the colored frosting.
Using a frosting gun or a ziploc (with tip cut) filled with remaining white frosting - write the first letter on all sides, including the top of the block.
Repeat with the additional "blocks" by finishing out the name you are using.
Arrange blocks to spell out the name on a beautiful platter and getting ready for the compliments!
NOTE: You could also bake 2 13x9 cakes and cut into cubes and make the "blocks" 2-layers stacked.
You could get even fancier and pipe the contrasting color of frosting onto the edges/trim of the blocks to define them more.
Or you could decorate the blocks with the white frosting and spell the baby's name out with the color-tinted frosting.
The possibilities are endless!