flower7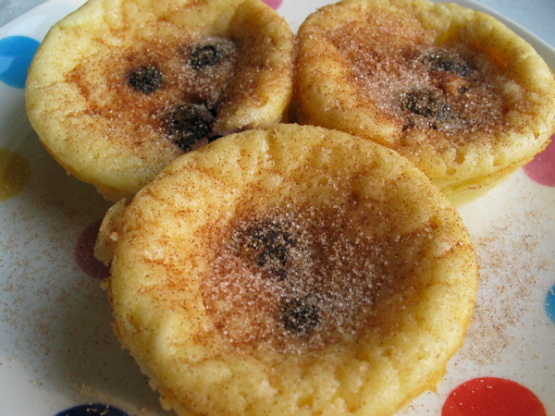 These muffin style crepe-less blintzes are great for a brunch or a cocktail party. The original recipe called for a combination of blueberries & raspberries, but I used just blueberries. I also messed up and used the firm, mozzarella like cheese...you need the Farmer's cheese that is more like a compressed dry cottage cheese or like an uncrumbled feta texture. I would recommend Friendship brand, which might be available in a store that carries kosher food or at Whole Foods.

These were tasty and very easy to make. I think next time I will bake them a few minutes longer and maybe add another blueberry or two to each one. The cinnamon-sugar on top really added something special and I recommend using lots of it. :) I liked them best at room temperature. Thanks for the recipe Karen!
Preheat oven to 350 degrees.
Spray muffin tin with cooking spray.
Using a large bowl for an electric mixer, crumble the farmer's cheese chunks.
Add one ingredient at a time, cottage cheese through eggs, mixing well to incorporate each ingredient.
Fill each of muffins halfway with the cheese mixture.
Place 3 blueberries on top. NOTE: The original recipe called for 2 blueberries & 1 raspberry.
Bake 20 minutes.
Remove from oven and cool in muffin tin for 5-10 minutes.
Using a knife to loosen the edges, remove muffins and place on wire rack to cool.
Serve hot, warm or at room temperature.
Before serving, sprinkle each blintz with cinnamon-sugar mixture and add dollap of sour cream in center. NOTE: They may also be served plain or with additional fresh berries for garnish.