Babs Coffee Walnut Cake W/ Coffee Frosting
SueVM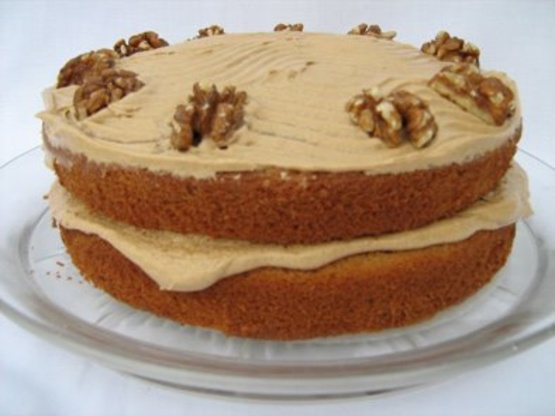 This is my sister Babs recipe for Coffee Walnut Cake that she sent to me. I'm sure this came out of a British cookery book at some point but as she has been making it for years she can't remember exactly where it came from.
8

ounces butter, softened (US 2 sticks)

8

ounces caster sugar (US Superfine granulated)

3

large eggs, beaten

2

tablespoons coffee extract (UK Coffee essence)

8

ounces self raising flour, sifted

3

ounces walnuts, chopped (setting whole walnuts aside for garnish)

Coffee Butter Cream frosting

4

ounces butter, softened

8

ounces icing sugar, sifted (US confectioners sugar )

1

tablespoon coffee extract
Butter 2 8inch cake pans and set aside Cream the butter and sugar together until pale and creamy.
Add the beaten eggs, the equivalent of one at a time, beating well. Add the coffee essence and stir.
Fold in the sifted flour and chopped walnuts. Divide the mixture between the prepared cake pans and bake in a 350 degree oven for 35/45 minutes or until an inserted tooth pick comes out clean. Set aside until cool.
Coffee Butter Cream Frosting:.
Beat butter until creamy and slowly add icing sugar and coffee essence. Reserve some butter cream for the cake's top decoration.
Place some butter cream between the two cakes and sandwich together. Add the reserved butter cream and the whole walnut pieces on top for decoration.