duonyte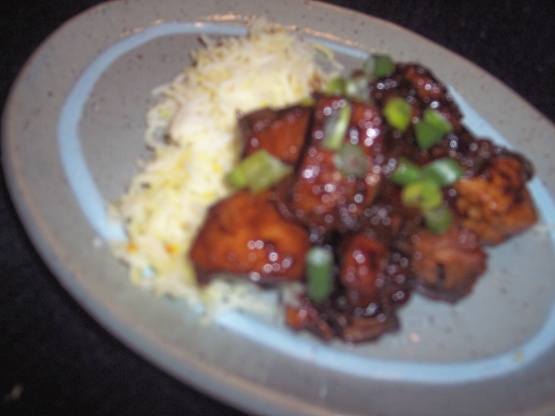 A wonderful Indonesian dish. It means Soy Pork. I found it online and we love it. Cook time does not include time to cook rice.

I really, really liked this. I wondered just what so little sambal oelek would add, but it added a very pleasant warm undertone to the meat. Katjap manis, however it's spelled, is a new ingredient for me. I will need to find other recipes to use it in. However, I have some thoughts on what I would do differently next time. I'd brown in the skillet, but then transfer everything to a pot. The liquid evaporated too quickly in the skillet because of the greater surface area, and the meat was not as tender as I would have liked. I had cut my meat into 1/2 in. cubes, and they were not quite tender enough before the liquid was almost evaporated.
Toss the cut up pork with a little salt & pepper and set aside.
Heat a little oil and saute the onions for a few minutes.
Add the pork, ginger and sambal and saute until pork is browned.
Add the Ketjap Manis and water and mix until well incorporated.
Bring mixture to a med. simmer and cook for a good 30 minutes stirring frequently.
It is done when the liquid has cooked down and thickened.
Top with green onions and serve with rice. We also enjoy it with a little extra sambal on the side.