diner524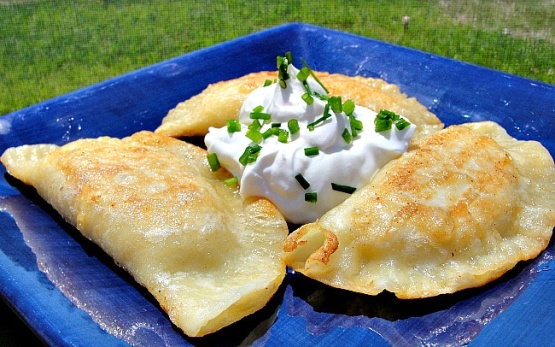 My grandmother's famous recipe!
Wonderful pierogies!!! I took some liberties with this recipe, instead of serving the pierogies with sauteed onions, I added the onions(minced & sauteed) to the potato mixture, so now when I pull some out of the freezer, I already have the onion flavor in the pierogies and can just fry them up and serve with some sour cream, yummy!! The other thing I changed, was I couldn't find dry curd cottage cheese, so used normal cottage cheese, but put it in a strainer and then added it to the potato mixture. I fried up 3 of them in butter for my meatless lunch and they were so good!!! Can't wait to make more and DS wants me to save some for him!! Thanks for sharing your Grandma's recipe. Made for 2013 Spring PAC event.
Mix flour and salt, and add water to make dough that doesn't stick to fingers.
Knead well and cover with damp cloth for 10 minutes.
Roll out to 1/8" thick.
Cut in squares or circles and fill with mashed potatoes and cheese.
Pinch closed and boil until they rise to the top.
Strain and serve with fried onions, sour cream, mushroom gravy, etc.