Baba Ghannoush (Arabic Dip)
Hommus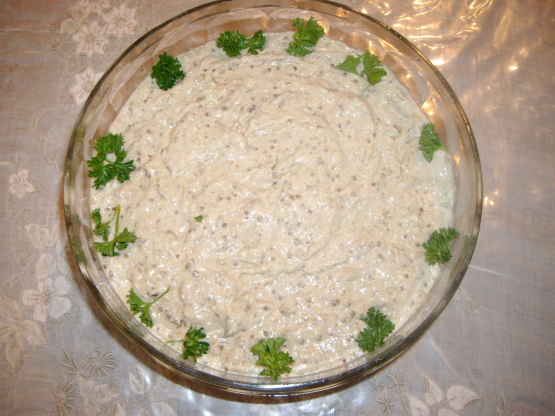 Baba Ghannoush is delicious vegetarian dish, very tasty. and quite easy to make. Baba Gannoush is excellent with Arabic (Pita)bread. Tahine or sometimes spelled Tehine can be found in major super markets in the Mediterranean section or in Middle East Markets.

Top Review by awalde
I love baba ghannoush in all it's variants.<br/><br/>This is a really delicious recipe. I added a bit roasted sesame seed for the decoration.<br/>I served this bulgur and grilled lamb meat! ;yummy: Next time we will have this with fresh homemade flatbreads!<br/><br/>Thanks a lot for posting this recipe.
Cut 1 inch slits in eggplant to prevent from splattering while baking. Bake eggplant at 500 degrees until tender or you can boil for 15-20 minutes.
Split eggplant open and scoop out the inside pulp together with the juice.
Place pulp (with juice) in a food processor and add all the above ingredients except olive oil and parsley.
Blend for about 20 seconds or until you make a smooth and creamy Dip.You can add or salt or lemon juice if desired.
Place Baba Ghannoush in a salad bowl and pour olive oil to cover the top. You can garnish with Parshley and tomato slices if desired.
Baba Ghannoush is best served cold.