B.C. Asparagus and Smoked Salmon Salad With Chive Vinaigrette
teresas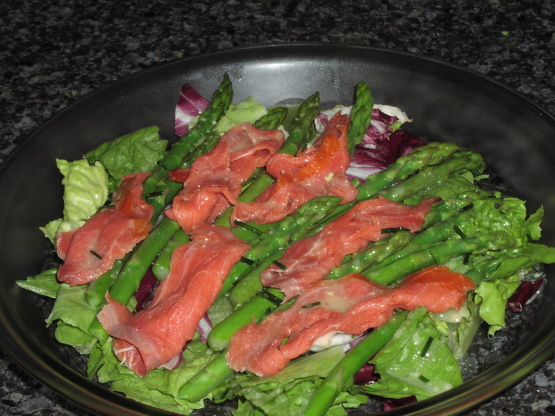 From British Columbia, Canada comes this salad of delicate asparagus spears draped with smoked salmon to create a special starter salad you can assemble in just 12 minutes. Prepare dressing and asparagus the night before. Wrap asparagus in paper towels in a sealed plastic bag. It will keep in refrigerator overnight. Assemble salad as directed when ready to serve.

This was really good...although both hubby and I didn't care for the salmon on the salad...it just didn't seem to fit in with the dish...it was too dominant ...we loved the dressing with the asparagus and salad...I will make this again but leave off the salmon...btw...I used Alaskan wild salmon...=)
Partially fill a large frying pan with water. Bring to a boil over high heat.
Fill a bowl with ice water.
In a small bowl, whisk vinegar with Dijon and salt. Whisk in oil. Add chives. Snap off and discard tough ends of asparagus.
Slip asparagus into boiling water. Cook until tender-crisp, 2 to 3 minutes. Drain. Plunge into ice water. When cool, drain. Pat dry with paper towels.
Place greens on salad plates. Top with a few asparagus spears. Loosely fold salmon over spears. Drizzle dressing over the top.