B B Q Lemon Chicken - Family Favorite
gailanng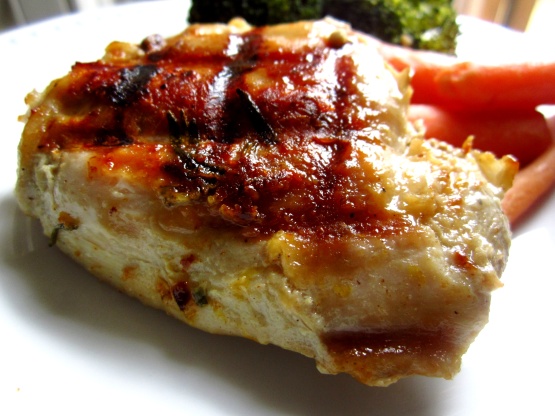 Very simple and very tasty. Never any leftovers.

Unfortunately the weather in our area didn't cooperate with me today, so I ended up cooking this in my grill pan on the stove-top and these turned out excellent. I used boneless, skinless chicken thighs that were marinated for 8 hours in the refrigerator. After the chicken was cooked through, I sliced up 2 more lemons and placed them under the broiler for 5 minutes. It was so good that it will be in regular rotation in our house during the summer. Thanks so much Catherine! Made for Spring 2013 PAC!
Special Equipment: I use a mortar& pestle, however a heavy bowl and the end of a rolling pin does the trick too.
Mix marinade ingredients using mortar and pestle and give a bit of a thump or 3 to bruise rosemary& lemon rind.
Place chicken and marinade in a ziplock bag (removing any air pockets) massage and refrigerate overnight.
Preheat BBQ to Medium to Medium-High.
BBQ chicken for approximately 25 minutes (or until done)- turning regularly.
Squeeze a lemon half over chicken with each turn.
Serve with salad.
Enjoy!