B.b.q. Almond and Honey Crusted Prawns
awalde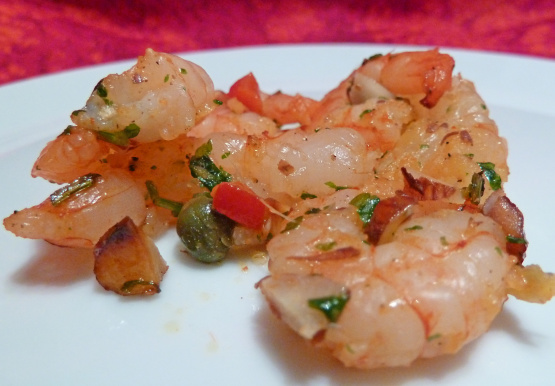 I have revamped this recipe making it a little different. I have made my own alterations in this recipe using a little from the original recipe. All ingredients could be processed with hand mixer or food processor -- makes things easier rather than chopping! Serving numbers, depends on the size of the prawns used.

Top Review by awalde
Thanks Tisme! This was really what I needed this evening!
I prepared this with small prawns, and for this reason I broiled them directly under the grill in the oven. I did not turn them as I placed them directy on the already hot baking tray.
The taste and the flavor were fantastic and we all enjoyed them very much with green salad, simply steamed broccoli and bread. Thanks a lot for this recipe.
500

g prawns, cutlets

2

tablespoons golden syrup

1

teaspoon ginger, finely chopped

60

g toasted almonds, extra finely chopped

100

g butter, melted

1

red chili, small, chopped

1

garlic clove, crushed

1

tablespoon capers, chopped

1

tablespoon flat leaf parsley, chopped

1

tablespoon chives, chopped
sea salt and black pepper (optional)
olive oil, for grilling

TO SERVE

skewer, soaked in water
Combine all ingredients except olive oil into a bowl and mix well to combine and Coat prawns well. Set aside and marinate for 20 minutes. .
Thread one prawn onto a prepared skewer & grill or B.B.Q. on a pre-oiled hot grill/B.B.Q for about 2-5 minutes pending on your preference until cooked through.
Serve with lemon wedges and a light salad.
Note : Soak the skewers in water before grilling to stop them burning on the grill.