Aztec Black Bean Salad (Vegan, Low Fat)
From fatfreevegan.com. This salad is lovely and can be made ahead. Add or subtract the chipotles to fit your own taste. I have also replaced the cilantro with Italian parsley when served to someone who hates cilantro and it turned out well.
2 (15 ounce) cans black beans, drained and rinsed
1⁄2 cup finely chopped red onion
1 green bell pepper, seeded and diced
1 red bell pepper, seeded and diced
1 (15 ounce) can corn kernels, drained or 1 (10 ounce) bag frozen corn, thawed or 2 cups fresh corn
2 -3 tomatoes, diced or 2 -3 cherry tomatoes, halved
3⁄4 cup chopped fresh cilantro (optional)
3 tablespoons seasoned rice vinegar
2 tablespoons apple cider or 2 tablespoons distilled vinegar
1 lemons, juice of or 1 lime, juice of
2 garlic cloves, finely minced
2 teaspoons ground cumin
1 teaspoon coriander
1⁄2 teaspoon red pepper flakes or 1 pinch cayenne
1 chipotle chile in adobo, canned in adobo sauce, diced
Directions
In a large bowl, combine beans, onion, bell peppers, corn, tomatoes, and cilantro.
In a small bowl, whisk together vinegars, lemon juice, garlic, cumin, coriander, red pepper flakes, and chipotle. I use a hand held immersion blender for this.
Pour over salad and toss gently to mix.
Most Helpful
Fatfree.com credits the base to this to The Race for Life Cookbook [posted to site in 1995] and I primarily used that one instead of this one. Note, the stupid software won't let me comment so I had to pick stars. The stars are based on my version. I used a tarragon wine vinegar since wine vinegar was suggested. I used lemon instead of the lime they suggested since it was suggested here. I didn't bother with the second vinegar at all in this one. I also didn't put in the chipotle chile. I mixed 5 different kinds of beans including soy and used garlic powder as suggested by the original since I was not going to be able to let the dressing sit. It was interesting to see the enhancements that fatfreevegan put on it. Gives me room to play the next time I serve it for lunch
Very tasty. I added the chipotle chile, the cumin and a pinch of cayenne and it was not too hot. Because it was so low-fat, and because I thought I could afford the extra calories, I added about a tablespoon of oil. I omitted the cilantro and parsley because my BF is not fond of either of them (can explain the cilantro, but can't explain the parsley, whatever?). I brought leftovers in for lunch the next day. My only complaint is that it took me a while to chop the veggies. Otherwise, thanks for this great recipe!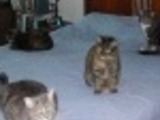 I made this the night before a pot luck, adding the tomatoes before serving. I omitted the chipotle chilies and reduced the red pepper flakes. It was a huge hit and several have asked for the recipe. Very fresh and bright flavor. This is a definite keeper!