Ayam Bali With Chicken Legs
awalde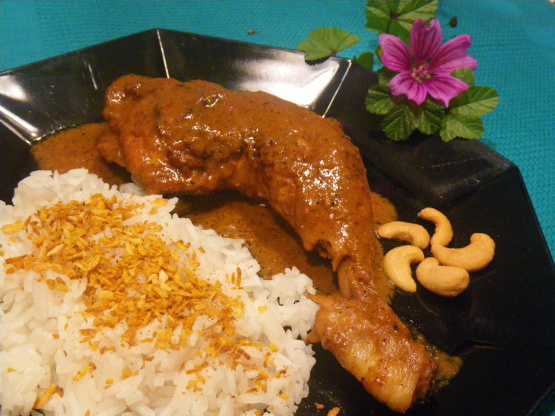 A great souvenir from our holidays!

made this at my daughter house. she didnt have a blender, so I just finely chopped everything. used a kilo of skinless drumsticks, and we licked the plate :) very easy dish, can do lots before hand. made for Aussie swap 2012
Put the onion, garlic, ginger, chilies and nuts into a blender with the dark soya sauce and blend to a smooth puree.
De-skin the chicken.
Let marinate the chicken in this paste for at least 2 hours.
Heat the oil in a large, deep frying-pan. When it is hot, add the chicken pieces (without the marinade!) and fry until they are evenly browned.
Put the chicken pieces on a plate and keep warm.
Add the puree mixture to the frying-pan and stir-fry for 5 minutes.
Stir in the remaining ingredients and bring to boil.
Add the chicken pieces to the pan and baste them thoroughly with the liquid.
Reduce the heat to low and simmer the chicken, uncovered, for 30 minutes, or until the pieces are cooked through and tender.