Awwami ("crisp Donut Balls") Middle East, Palestine
Ms. B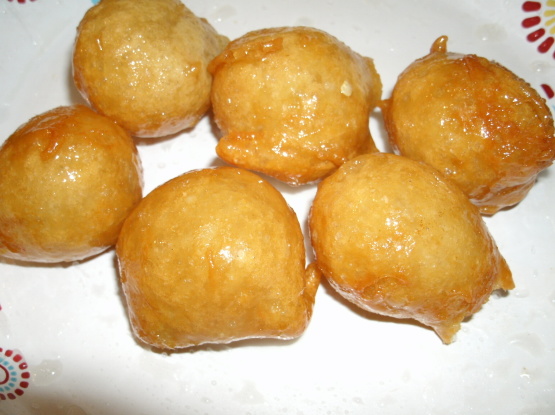 Awwami is a traditional sweet made in many parts of the middle east. It is absolutely DELICIOUS!!

Top Review by Ms. B
I was looking for a quick and easy yeast glazed donut recipe, but came across these wonderful bites. I made half a recipe and had to add an additional ounce or so of water to get my batter pancake like. I fried them in peanut oil, and used a small cookie scoop to make the balls. I used Sydney Mike's recipe for the the Attar Syrup. This took care of my craving for donuts! Very good!
Mix flour, salt, and cornstarch.
Dissolve yeast in 1/4 cup of water and sprinkle with 1/4 teaspoons sugar.
Add yeast mixture and 1 cup of water to flour and cornstarch. Beat well until smooth. (Batter should have the same consistency as pancake mix). Set aside one hour to rise.
Heat oil in a deep-frying pan on medium to high fire.
Dip a tablespoon in water, and pick up a small portion of the batter and drop it into the hot oil. Repeat until all the batter is used.
Fry until light brown. Remove and dip in prepared cold attar (syrup).
Serve while hot.