Awesome Stuffed Grilled Burgers - Easy
RedShirt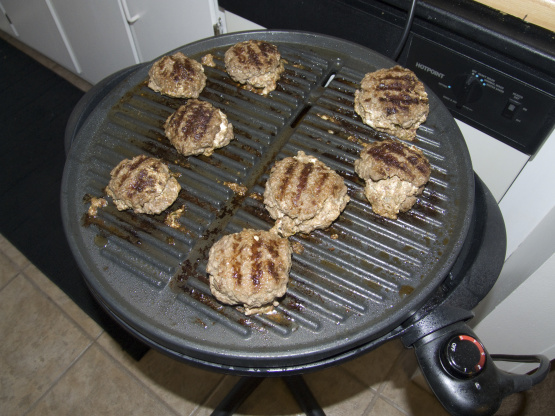 This is a great Labor Day, 4th of July, or Family BBQ burger recipe. It is very easy and can be done on the Grill or a good size Foreman. Jut make sure you make the burgers thin and wide enough because of the shrinkage that happens when being cooked.
2 1⁄2 lbs ground beef (chuck)

16

ounces cream cheese

1

ounce McCormick grill seasoning (packet)

1

ounce ranch dressing mix (packet)

4

tablespoons Bacos bacon bits

2

tablespoons garlic powder

2

tablespoons jalapenos (diced)
Take cream cheese, grill seasoning, ranch seasoning, bacos, garlic powder, jalapeno, and mix together in a big bowl.
Create 16 burger pattyies thin and wide.
Take one patty, put a little ball of the mix in the center, then take another patty and seal the edges all around.
This makes 8 patty's grill to your desired taste.