Awesome Steamed Cheeseburgers!
Uncle 12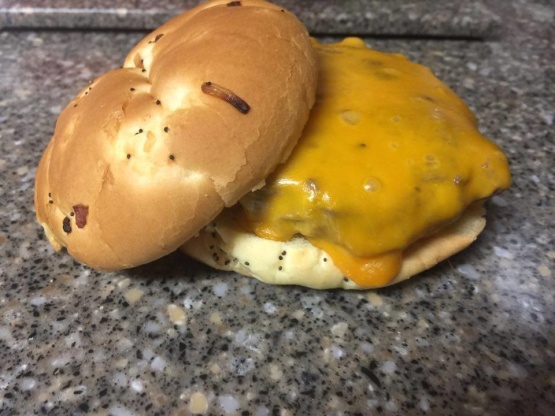 I was inspired to try to make these at home after watching the Travel Channel when they aired a piece about a place called Ted's Restaurant in Meriden, CT. Where he makes these awesome looking, gooey cheese covered burgers. I can't think of anyone who has a steam box like the one Ted uses in his restaurant, and after viewing the episode, I wanted one! So, I grabbed my patty press from the cupboard and went on to try to make these awesome burgers at home with a large frying pan, glass lid, and the wire rack from my toaster oven. Since no flipping is involved, I decided to place a slice of onion on each burger while it steamed. I was very delighted to find that the burgers not only came out juicy and flavorful, but was also surprised on how fast and easy it was, and because there are no grease splatters, clean up was a cinch!

These were so good and easy. I used ground round, sea salt and black pepper. I had a little rack from the dollar store so I bent it to fit my frying pan. Topped with sliced, white onion and American cheese. I love the fact this recipe does not leave you with a greasy mess to clean up. Thanks for posting and this is now my "go to" burger recipe! Happy Independence Day!
divide ground beef in half and form into 2 six ounce patties.
season with seasoning salt and pepper to your liking.
place a metal rack in the bottom of the frying pan.
add water to a level just below the rack.
heat water on high heat until water begins to steam, reduce heat to medium.
place burgers on rack and cover.
steam for about 10 minutes.
top with cheese, cover and steam an additional 30 seconds to 1 minute or until cheese is melted.
top with your favorite toppings and enjoy!