Awesome Shredded Beef Burritos or Tacos (Crock Pot)
mercyd79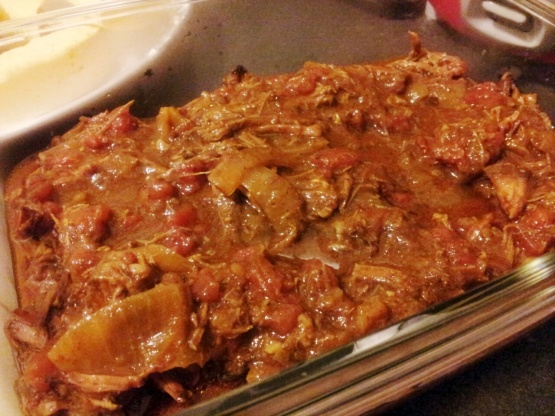 This recipe is so easy and the shredded beef makes fantastic filling for burritos or tacos. I buy can of enchilada sauce to smother the burritos with and then top with shredded lettuce, tomatoes, onions, sour cream, shredded cheese and of course my own homemade salsa Sooz's Easy Homemade Blended Salsa. My Father declares them "better than restaurant burritos".

True to its name, this made the most awesome tacos! I used a 2 pound boneless beef chuck (which worked well because all I had was a 10 oz. jar of Rotel), placed that on top of sliced onions, and rubbed the spices onto both sides of the beef. It was perfectly cooked and seasoned and not too spicy. No more ground beef tacos for this family. Thank you!
Place roast in crock pot.
Sprinkle with taco seasoning, salt and pepper.
Top with diced tomatoes.
Cook on low 8-10 hours.
Remove beef from crock pot and shred with two forks. Return beef to crock pot for 30 minutes or so.
Serve rolled in flour tortillas with your favorite toppings or in taco shells with your favorite toppings.