Awesome Roasted Potatoes With Sour Cream Dip
2Bleu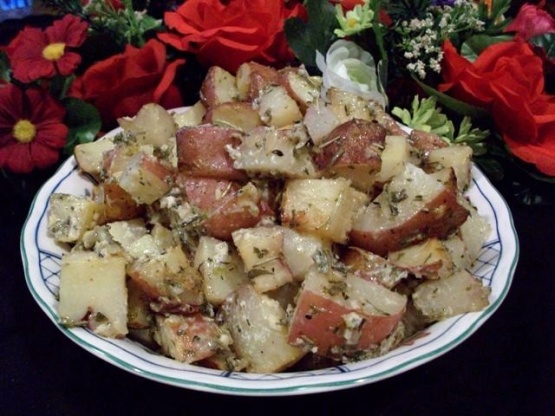 The version of roasted potatoes my family loves. This one came about after trial and error LOL You can adjust the seasoning to your taste I like to marinade the potatoes for about 30 minutes before roasting

Absolutely delicious. All the herbs went well together. This was so easy to throw together and the sauce was a great combination with the potatoes. I forgot to take photos with the sauce, but here are some photos.
Wash and chunk potatoes. Can peel if you want. I usually don't.
Mix all ingredients except the parmesan cheese and toss with potatoes.
Pour into a baking dish.
Marinade for 30 minutes.
Bake at 350 for 60 minutes or until fork tender.
Sprinkle with the cheese just before serving.
Time depends on size of potatoes.
NOTE: Depending on your personal likes you can mix the potatoes and oil/seasoings in a bowl,marinade then just spoon the potatoes into an oiled or sprayed baking dish and then drizzle with as much of the oil/seasoning mixtue as you would like to use.
Sour Cream Dip.
Mix all ingredients. Chill for an hour.