Awesome Peanut Butter Cookies!
Nimz1466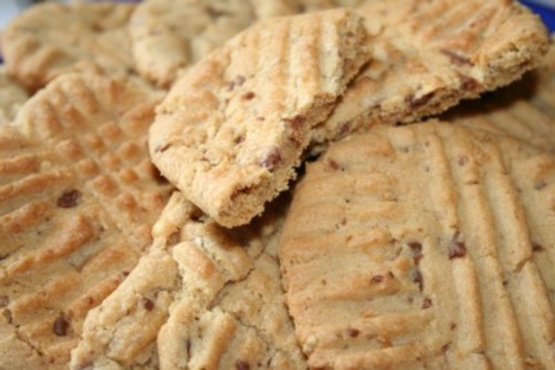 Add in some tiny chocolate chips and/or chopped peanuts if desired, this recipe makes a lot of cookies but the dough can be shaped into small balls and then frozen to use later.

Oh my these are good. I used all margarine and did not press down with a fork. After 10 minutes in the oven these wonderful little gems were done to perfection. My family just loved these and since baking them less than 9 hours ago they are almost all done. A sure sign of a winner in my home. Thanks for the recipe.
Set oven to 350°.
In a bowl, cream together the Crisco shortening, butter, peanut butter and sugars until well mixed and creamy.
Add in the eggs; beat well.
In a seperate bowl, stir together the flour, baking powder, baking soda and salt; stir into batter; mix well until well combine.
Add in chocolate chips (or chopped peanuts) if using.
Roll into 1-inch balls, and place on a greased baking sheet.
Flatten each ball with a fork in a criss-cross pattern.
Bake for 10-12 minutes, or until the cookies begin to brown (don't overbake!).