Awesome Paprika Chicken With Creamy Gravy!
vrvrvr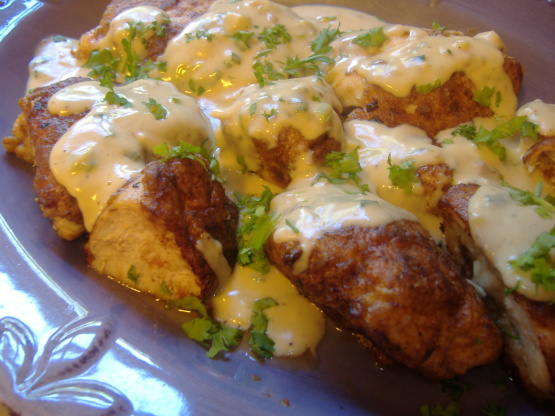 This recipe is the very best chicken recipe I have tried. My picky eaters, hubby and son, LOVED it! It is easy to make and I'm sure this will become a regular in your household!

We loved this but I did make some changes also. I used 2 chicken breasts, cut them into cubes, I doubled the flour/seasoning mixture. I used to eggs, coated the chicken pieces and then shook the chicken in a large zip lock bag with the flour seasoning mixture until they were really coated well. I then sauteed the chicken slowly in butter until cooked through and slightly crispy. In another skillet I sauteed the green onions with some minced garlic and some minced shallots. I then added the can of cream of chicken soup and I then whisked in the sour cream. I did add more cayenne to the flour seasoning mixture(forgot to say that earlier) and I added some sea salt and some cayenne to the soup/sour cream sauce as well. I kept the chicken separate from the sauce because I didn't want the crispiness of the chicken to get soft and sticky in the sauce. I made some linguine, put that on the plate first, topped the linguine with some chicken nuggets and then put the cream sauce on top of the chicken. Excellent!!
Mix flour and seasonings.
Coat chicken is whipped egg.
Coat chicken in flour and seasonings.
Melt butter in skillet.
Add chicken and cook 12 minutes on each side turning only once.
In separate pan add soup and onions simmer for 3 minutes or until hot.
Stir in sour cream.
Simmer for another 3 minutes on low heat.