Awesome Pan De Carne - Paraguayan Meat Loaf
Peter J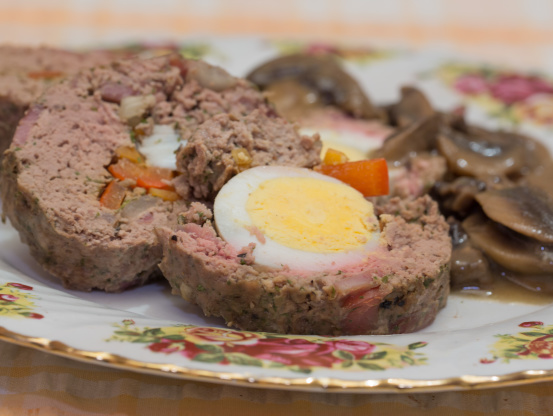 You can do it all at once, but she usually makes it the night before so it can set. Found in :http://www.findingmyfitness.com/2011/03/recipe-book-na-evers-flippin-awesome-pan-de-carne/ Adapted for ZWT7

Made for my version of a going away party for the Quest in So America, I pretty much stuck to your recipe as my plan. BUT I also took reviewer comments to heart. Like another reviewer, I sliced the egg. I also added some breadcrumbs to help as a binding agent. Both changes were more to keep me from failing in the assembly & did not change the great flavor of this loaf. Thx for sharing this fun-to-make & tasty recipe w/us.
Mix all of the ingredients except the optional ones in a bowl and mix well.
On a sheet of aluminum foil, spread out the meat mixture (you're going to roll it in a second).
Lay out in the middle your shredded carrots, peppers, and hard-boiled eggs.
Roll the meat up, joining the ends and the seam so it looks like a log. The foil will help you. Use the foil to keep it closed for cooking.
Cook at 350 for 45 mins to an hour. At 40 mins, open the foil a bit to check.