Awesome N' Easy Beef Stroganoff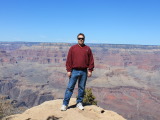 This is one of my wife's specialties. With garlic bread, Caesar salad and a bottle of wine it makes a great meal. When we first living together, she would always make it as the beginnings of an evening of passion. It never missed, I always fell into her trap.... Still do (when the kids allow it)
Directions
Cut steak into bite size pieces.
Heat 1 tbsp olive oil in heavy skillet.
Add beef and brown.
Sprinkle with flour and cook an additional minute.
Add water, wine, soup mix and bouillon and stir.
Transfer to casserole dish with lid and bake at 325°F for 3 hours.
Ensure it does not go dry by adding wine or water.
Fry mushrooms in pan with 1 tbsp olive oil.
Add mushrooms to mixture and return to oven for an hour.
Cook noodles as directed.
Remove mixture from oven and stir in sour cream.
Serve over noodles.
Most Helpful
It's not the recipe's fault it only got 3 stars...I tried this in the crockpot, and when all said and done it was too soupy yet. I guess it wasn't able to boil off like it would have in the oven. BUT the flavor was fantasic! And the recipe was so simple. I used left over pasta from the other night we had steak alfredo, that was a time saver and also cleaned out the leftovers in the frige.Thanks for the tasty recipe, next time i will try just 1 Cup water if i do it in a crockpot again. Thanks for posting. Have a great weekend.
A nice stroganoff but a little more work and time involved than I would like. But, the flavor was quite nice and the beef tender. My family said it was a nice meal that they would like again.
Very good, and simple stroganoff recipe. I used some overdue frozen steaks I had in the freezer for this recipe. The meat turned out moist in the center and tender. I substituted vinegar for the wine and I omitted the mushrooms (my husband doesn't like them). I didn't have to add any water during the 3 hour cook time. Three hours was perfect, as I had worried I was cooking it too long. I also used over spinach fettucine for the noodles. It was very flavorful and creamy!