Awesome Mini Spinach Quiche Bites
Prep 25 mins
Cook 20 mins
These are wonderful to serve as an appetizer and I have done so many times at my get togethers, everone loves these! to save even more time you can purchase the ready-made small tart shells and the recipe may be doubled if desired.
Directions
Set the oven to 375 degrees.
On a lightly floured surface, with a 1-1/2-inch biscuit cutter, cut out 12 rounds from the thawed pie crust.
Press each of the rounds into the bottom, and up the sides of ungreased mini muffin cups.
Repeat with the second pie crust.
In a skillet, cook the bacon until brown and very crisp; drain.
Add in the onions to the same skillet with the bacon drippings, cook for 5 minutes, or until tender, stirring constantly; drain.
Place the onions in a medium bowl.
Crumble the bacon into small pieces, and add in with the cooked green onion.
Add in the eggs to the bacon and onions; beat well.
Stir in the cream, salt, nutmeg and the Parmesan cheese.
Add in the squeezed spinach; mix well to combine.
Divide the mixture evenly into crust-lined cups.
Bake for 20-25 minutes, or until puffed and golden brown.
Cool in pan on wire rack for 10 minutes.
Loosen quiches from pan with tip of knife.
Serve warm or cool.
Store in the refrigerator.
Most Helpful
These are definely "awesome"! I brought them for a work party today, and everyone loved them (YAY!). I did use phyllo dough instead of regular pie crust. Otherwise, made exactly as directed. THANKS! :-)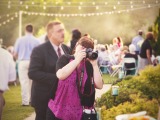 I used ready made frozen, pastry shells. was a little short of spinach (used fresh) and added a shot of HOT Thai Chili sauce to each after baking. There is a smile on our faces after enjoying these lovely morsels. The bacon and the nutmeg are the secrets. I didn't use half & half cream just a bit of 1% milk. It all worked and served with my Sunday Martini WOW

I made this last night and it turned out great! I didn't have any green onions, so I used finely chopped regular onion instead. Also, I used Heavy Cream instead of half-and-half. I used 3 eggs and 3/4 cup cream, and yielded 18 quiches in a regular sized muffin pan. I used a glass to cut out 3" circles of pie dough.