Awesome Lasagna (No-Boil, Easy)
David O.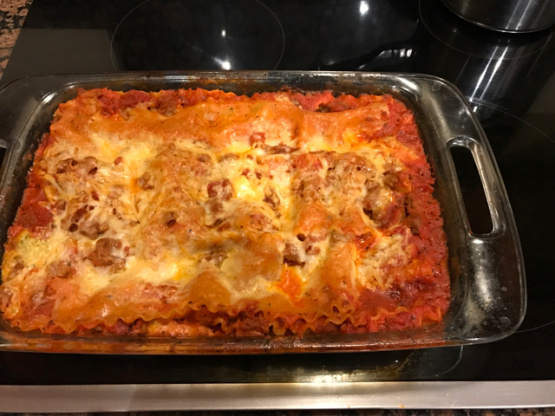 This is a really good basic lasagna recipe. It's based on one I found somewhere, but I've tweaked it quite a bit to suit my own tastes. I like it as written with italian sausage, but you can substitute ground beef if you must.

I made this a few days ago and it is now sitting in my freezer waiting to go to a family dinner next week. Even though I haven't yet tasted it I know from looking at and smelling it that it is going to be delicious. For the tomato sauce I used recipe number 8581 (Delicious Tomato Sauce) but did not add the meatballs. With the price of meat and cheese now, next time I make it I will decrease the amount of meat to three-quarters of a pound as I think it does not need one and a quarter pound.
Heat oven to 350.
In large pan, brown italian sausage; drain.
Add spaghetti sauce, tomato sauce, water, garlic and italian seasoning. Cover and simmer for 10-15 minutes.
In medium bowl, combine ricotta, 2 cups of the mozzarella, parmesan, eggs, parsley and pepper. Mix well.
Pour about 1 cup of the sauce on bottom of 9x13 pan.
Arrange 3 uncooked lasagna noodles over sauce; cover with about 1 cup sauce.
Spread 1/2 the cheese filling over sauce.
Repeat layers of lasagna, sauce and cheese filling.
Top with layer of lasagna and remaining sauce; sprinkle with remaining 1 cup mozzarella cheese.
Cover with foil and bake at 350 for 45 minutes.
Remove foil; bake an additional 15 minutes.
Let stand 10 minutes before cutting.