Awesome Hamburger, Rice and Spinach Skillet Dinner.
Dantana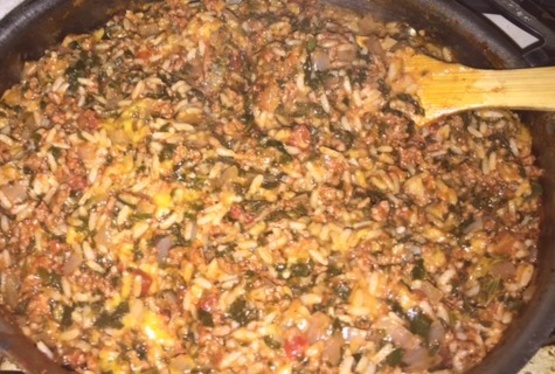 Awesome and affordable! Crushed tomatoes with a savory-dill twist. If you want a great yet inexpensive meal, this is it. You probably have most of these things on hand already! Based on 365 Easy One Dish Meals recipe. Someone with good camera skills please post a better picture!
In a 10" skillet, cook beef, onion and garlic over medium-high heat stirring often, until beef is browned (about 5 minutes). Drain off excess fat.
Stir in tomatoes, spinach, dill weed, garlic salt and pepper. Heat to boiling. Add rice and turn heat to low and cover.
Simmer, covered 25 minutes or until rice is done.
Top with shredded cheese then re-cover, remove from heat.
Let sit (off heat and covered) for 10 minutes until cheese has melted.