Awesome Garlic Chicken Sandwich !
Mika G.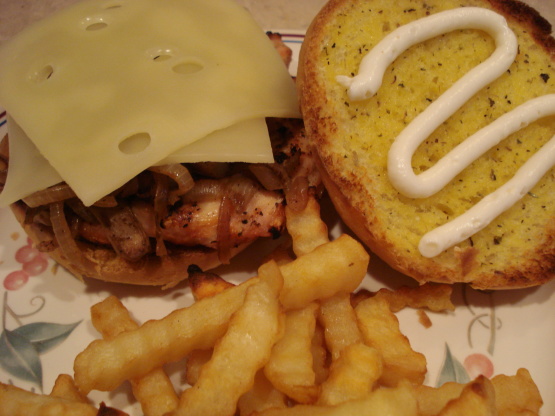 I made this one last night and hubby was looking for another one before he had finished the first! This is THE BEST chicken sandwich I have ever made...and it took about 10 minutes to put together ! Great for lunch or dinner....a hearty sandwich with lots of stuffing in it ! Enjoy!

This is a great sandwich. I used 2 boneless skinless chicken breasts & only used 2 tbsp melted lite butter, 1/2 tsp garlic powder & 1/4 tsp dried parsley. I spread it on both sides of the sandwich buns before toasting them & the taste was wonderful. Didn't use any mayo; the taste was good as is. I loved how quick this was, too. Thanks so much!
Heat the oven to broil.
Cut the crusty buns in half.
Place the butter / margarine in a small bowl.
Mix the garlic powder and parsley into it.
Spread the garlic butter mixture on the crusty buns.
Toast the buns under the broiler for a couple of minutes, until golden brown.
Remove and layer the chicken, tomatoes, lettuce, olives (optional) and mayo onto the buns.
Enjoy while still warm !